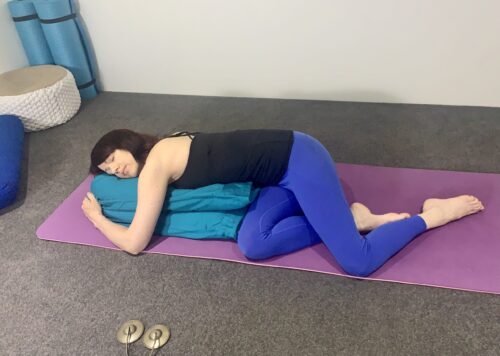 Back by popular demand, our yoga for insomnia workshop is back on the schedule for 2022!
Sunday 13 March 2022 – 1pm – 4pm
Cost:  $95 including all equipment, materials & afternoon tea
Venue:  Heart of Rest, 22 Gwilliam Drive, Bibra Lake
You are not alone! Over half the population suffers from insomnia at some point which makes it a common complaint.  Get some practical tips for the management of insomnia symptoms using yoga.  Led by experienced yoga therapist Charley Hickey C-IAYT.    The good news is that there is a growing evidence base for yogic management.  This workshop outlines some practical tips along with an overview of some of the research.  Charley has a keen interest in this topic.  She has a good understanding through her own experiences with insomnia.  She successfully used yoga for insomnia treatment in her younger years and loves to spread the word about the benefits. This will not just be a boring theory session and will incorporate plenty of moving, breathing, and meditating.   Afternoon tea and notes are supplied which can be referred to at home.
Please Note – Yoga teachers are very welcome to attend the yoga for insomnia workshop.   Please see testimonials below from past yoga teacher attendees.  Charley is a senior yoga teacher and experienced yoga therapist so this workshop attracts professional development points with Yoga Australia and the International Association of Yoga Therapists.
Testimonials From Past Attendees