Women's Yoga Retreat Perth
How would you like to spend a whole day dedicated to nurturing your entire self?  All of this in a tranquil location tucked away in a leafy southern suburb of Perth.  Our women's only yoga retreat day could be exactly what you need!  Come and join like minded ladies for a rejuvenating day of yoga.
Date: Sunday 29 March – 9.30am – 4.30pm
Venue: Sivananda Ashram – Beacon Yoga Centre, 151 South Street (corner Field Street) map
Cost: $140 or $135 Concession
Co-hosted by Charley Hickey C-IAYT, experienced yoga therapist and senior yoga teacher (Charleyoga) and Bettina Gould, senior yoga teacher and meditation facilitator (Yoga2Fitness)
These two dedicated yogis have been friends and yoga teachers for over 15 years. They love coming together to share their collective experience with you. The pace is gentle with options given for all levels so no yoga experience is needed.  This includes anyone who is injured, a little older or recovering from chronic illness.  We guarantee you will leave feeling more relaxed than when you arrived.
The yoga retreat day includes gentle yoga, pranayama (breathing techniques), guided meditations, walking mindfulness meditation & time for silent reflection.  We also welcome guest teacher Michelle Fox who will take you on a sound journey with live music to accompany a restorative yoga session.  Fully catered with a nutritious morning tea and an amazing vegetarian food mandala for lunch (see pictures!).  You'll also receive a goodie bag to take away with you.
Held at the historic and picturesque grounds of the Sivananda Ashram in suburban Fremantle.
Please do not hesitate to contact Charley 0439 966 059  info@charleyoga.com.au
or Bettina 0438 800 499 info@yoga2fitness.com.au  directly if you have any queries.
Testimonials From Past Women's Yoga Retreat Day
"My daughter and I took part in Charley's yoga retreat and loved every minute of it. We thoroughly enjoyed it for so many reasons: Relaxation, sharing, learning, calming, camaraderie and helpful guidance. So I will be booking my place as soon as another day is offered. Thank you Charley, Bettina and Janine." ~ Wendy H
"Wonderful all day. Felt free from a lot of the stress I had been experiencing through illness. My headache went and felt free to enjoy every experience.  The food was fantastic and it was great to talk to other members of the group whom I did not know.  Also the exercises gave us the opportunity to do the same .  All leading to a very safe and great experience which I really enjoyed. Thanks to both of you. I have used the meditation beads which has helped me to relax." ~ Judy D
"What a lovely way to spend a day! The retreat was so relaxing, restorative and nourishing. Charley and Bettina you were informative and helpful and provided the platform to ensure we enjoyed ourselves throughout the day. It's nice to be reminded to take a little time just for us. Thank you and I cant wait for the next one" ~ Gina C
Why Take A Yoga Retreat?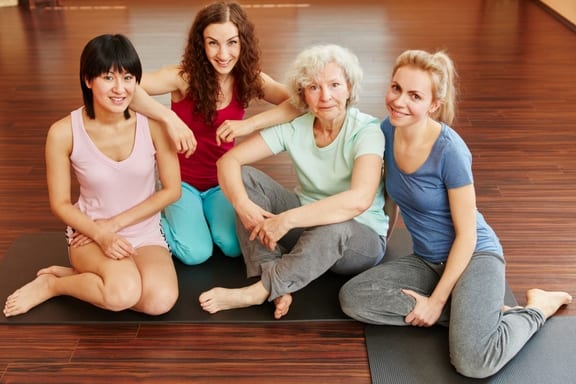 A yoga retreat is an opportunity to allow yourself a day off from everything you are to everyone else.  That might be a housewife, wife, mother, daughter, sister, boss, colleague, friend.  The list goes on!  Women wear many hats throughout life and often in a single day.  It's an opportunity to reset, reflect and to fill your own cup so that you have something left to give.  I hope you can make some time for yourself because you really do deserve it.  X